Saying Goodbye to the Single Life with a Bang and a Peep Show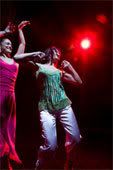 It's six months before my sister takes the biggest plunge of her life and I'm excited as well as scared shitless… again. This year and last, I've seen my best friends tie the knot and just go for it. For my sister though, I'm thinking of giving her a singles party to remember, because it's the last one she will ever experience.
I am going to use a hen party model that an advertiser specializes on, they call it Hen Weekends, and they operate in the UK. At first I thought a pole dancing school theme for a bachelorette party won't work here in the Philippines but then again, why not? It's an all-girl night out and soon enough people here will catch the trend.
The wildest girls' night out party I attended was a few years back. It took a lot of planning but the party itself didn't follow the program we set up. First off, they decided to scrimp on the stripper budget. And then, they asked me to do the choosing.
Girl Friend: Woobie, we decided that you should go out and hire a male dancer for the party.
Woobie: Oh no, I already volunteered to cook the pica-pica.
Girl Friend: You don't understand, sis. This isn't a request. It's a dare.
So off I went looking for a male dancer who will agree to dance for a pitifully small amount of money. The pros were expensive and for good reason, they're really hot and can dance. Since the budget was limited, I decided to prioritize those who can put on a good show, never mind the good looks (tightwads can't be choosy).
I was surprised to find many guys willing to strip for a roomful of giggling girls, and many were eager to show the merchandise before i paid down payment! Meeting one who fits the criteria, I prepared for the criticisms I will receive from the budget-loving girls.
They snorted and rolled their eyes up until the 'dance number'. During which they screamed and clapped, and had a good time over all. Oh yeah, it was a Full Monty.