http://www.evilwoobie.com/astrology-sensing/girl-sensing-arie/
Aries Girl (March 21 – April 20) – The Dominatrix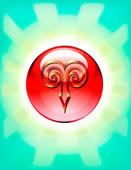 This girl will always want you to ask her opinion before making decisions. She's women's liberation in the flesh. The fastest way to get her to be interested with you is if you express interest in her. In starting a conversation, you must always start by giving a very brief introduction of yourself and then proceed asking her about what she does or what she likes to do. She prefers to talk about herself, but she expects you to listen. She may get impatient when you can't make a decision where you want to go during a date. Secretly, she might like making the decision, but she will resent you that you didn?t make it sooner and wasted (her) time.
Could an Aries girl be your soulmate?
Woobie?s Quick Tip: Don't worry if it seems that you're not saying much and she's the one always talking, she doesn't mind. Just don't space out during a conversation with her or she will be very offended.
Famous Aries Girls
Sarah Michelle Gellar
Sarah Jessica Parker
Mariah Carey
Celine Dion
Shannen Doherty
Reese Witherspoon
Ashley Judd
Melissa Joan Hart
Mandy Moore
Jennifer Garner
Kate Hudson
Keira knightley
Claire Danes
Julia Stiles
Fergie
Jennie Garth
Jamie Lynn Spears
Emma Watson
Rosie O'donnell