We Made it! Philippines Top 100 Blog List for 2008!
I feel very honored to be featured at Ratified for being a part of The Philippines Top 100 Blogs for 2008. The interview was conducted by Miss Janette Toral, one of the most influential women in the Philippine Blogosphere and the esteemed author of Blogging from Home.
For the recognition and the opportunity to talk about this blog's growth in 2008, THANK YOU!
To my readers and the people who continue to come back to read about romance and relationships, THANK YOU!
I feel like crying. [Update: I am now crying]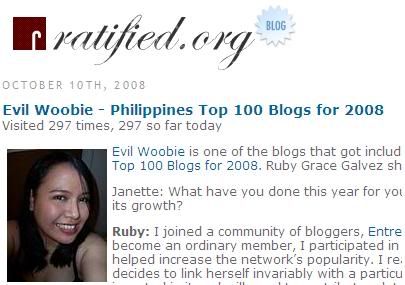 My niche blog about romance and the intricacies of relationships has really evolved from being an angsty, gothic themed blog to an angsty, heart-filled one; much like my sojourn from adolescence to advanced adolescence (lol).
I talk about relationships because I believe that no man or woman should pass through life without feeling the miracle of love in various forms. The fun, flirting and seduction phases of finding love serve as wonderful steps that we take to get to that place called forever.
Romance is not a scenario but a state. We experience it when we accept ourselves and learn about the miraculous things that we can give to another person. Everyone is special and has the capability of making other people happy. We only find true happiness when we love…
… and my job as a romance blogger is to spread the LOVE!

So stoked right now, so if you have a question about relationships, please send me a note via my contact page and I will feature your questions in my next posts.
Thanks Again and More Power to Ratified dot Org.