Why is Virginity a Big Deal Among Filipinos?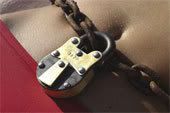 So… Let's talk 'purity' now.
The main thing that alerted me to the fact that I think differently compared to some of my contemporaries was my view of virginity. I first read about it in my romance novels, and when I finally found an adult who didn't freak out whenever I mentioned the V-word (I was 13 then), I asked two questions:
"Why does a man prefer his wife to be a virgin?  And, what is the logic behind his wanting a virgin wife, but then cheat on her later with a woman who isn't necessarily a virgin?"
Despite that my elder avoided answering the second question, she did tell me what I wanted to know. Men, particularly Filipino men, want their wives to be virgins because they want to be first in everything. virginity is a gift that a demure Filipina will reserve for her husband alone. It's something precious and rare, and apparently a sacred thing to some.
Years later, the notion that a lot of men here still think that virginity is one requirement for marriage was reinforced when I heard my first maid sobbing in her room.
Her: "My boyfriend feels responsible for this girl back home because he took her virginity."
Me: "If you knew he thinks that way, why didn't you give yours to him then?"
Her: "Because I am scared that if I give it to him and then he leaves me, I will mean nothing. No man will want me anymore."
Yeah, it totally blew my mind.
So, my view of virginity's importance to Filipino men now is this: some men would rather have inexperience (think 'biting down') rather than live with the thought that their girlfriend or wife had other lovers in the past. The amusing thing is, they don't really adhere to the same rule themselves.
But as always, there are exceptions. Before posting this article, I asked the BF why Filipino men prefer virgins and this was how the conversation went:
BF: Nope, Some pinoys would rather not date virgins.
Me: Why not?
BF: It's another thing to emotionally blackmail a guy with. Like this, (*in a high pitched voice*) "I gave you everything, EVERYTHING, how could you do this to me? buhuhuhu."
Hmm… it seems that men really get affected by that "how could you…" line eh? (evil)
:gg:
This's post is part of the Blog Ring at HoneyandLance.com. Check out the other posts!