Dating Could Save Your Sanity
I think I am…
I am fading away to rage and bitterness…
The demon has been unleashed,
And women have nothing to blame for it
but themselves.
Muhahahahhahahahaha…"
-Linc, thirty-something years old bachelor, on his love life's status. Click the link and find out what a great guy he is. Picky, but a great guy, nonetheless. Happy Birthday, Mr. Leo Guy.
:heh: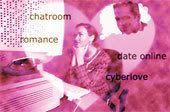 A study on the occurrence of Alzheimer's disease among single and dating middle-aged individuals showed that the latter have less tendency of developing the disorder than the former. I, however, have always questioned the subjectivity of sanity or what is normal. The world could be crazy and you could be the only sane person in it, and not the other way around, right?
I once wrote a post about Panic Mode at Late 20s. Your twenty-something years are probably the best times to start thinking about life and what else it could offer in terms of lasting happiness. Most people get married or have moved in with their partners at 27-35 years of age. And, while the singlehood stage called "soul searching phase" is all comfy and nice, one needs to rouse one's self to the fact that time (and the good ones) won't wait for a 10-year decision to start dating for real.
For those who want to take the leap of faith and brave the sometimes murky waters of the online dating world, here is the link to my dating page. After all, your soulmate won't find you if you don't start looking for her or him first.

Do you feel that your boyfriend still cares for you but chooses not to get back together for some reason?
Before you throw all those memories out the window and say "he is in love with himself and won't ever return my love", find out about the powerful psychological strategies to make him want to be around you again, even if you caused the break up in the first place! Discover Matt Huston's 'Get Ex-BF Back program' and turn your love life around NOW!