Sexual Tension: How to Fan the Flame of Attraction
Attraction could translate as 'crush' or 'extreme liking'. Some define it as love or being in love. Nonetheless, the best and most vague way to define it is this:
The person incites a feeling in you
that you cannot even begin to explain,
but you don't complain
because you actually like that weird, crazy feeling.
Sexual tension is something that happens when two people who share a mutual attraction for each other play the game of "signs". Simply put, one does something then wait for a reaction from the other. This could go on and on without direction, until
both take the first step towards a more intimate relationship, Or
lose interest because of the lack of a real opening.
Building Sexual Tension
Sexual Tension does not always lead to sex. In fact, it shouldn't (at least not yet). What it will do is foster intimacy, make the other person think of you in a way that is more than 'just friends'. This concept is quite similar to how a successful salesman made it; it involves a series of steps that will eventually lead to the point of sale… the bottleneck where someone chooses only between "yes" and "no". One creates sexual tension by…Flirting with a Purpose
Some flirt to show appreciation (like guys would when they meet women they want to hook up with), some do it to simply prove they can generate attraction, but building sexual tension by flirting is quite different. Underneath the eye contact, body language and the sweet talking is the underlying message: "know me more" and "be with me longer". Some instances when two people can build sexual tension include sexy phone conversations, online chat sessions, watching a sultry sunset (or a movie) together and a very romantic dinner date.
What happens when Sexual Tension builds between friends?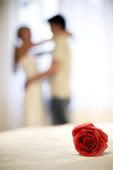 Fostering intimacy between friends could aid the friendship-love transition, or it could simply result in a much stronger bond between the two individuals. Once sexual tension is released, through intimacy or passion, both will know what exactly they are to each other. They could still go their separate ways but they both realize that they will never have to live their lives guessing…
"What could have happened if we encouraged that attraction instead of ignoring it like it didn't exist?"
I wrote more about this topic over at Bobby and Mike's blog, The Seduction Bible.
Learning about sexual tension is useful if…