Control: Dominance in Relationships
The Origin of the Rebel Partner
Some girls and guys, once they are over the 'honeymoon phase' of their relationship establish grounds and make up rules. I think this is when the conflicts start. Moreover, this is the dreaded phase that perpetually single men and women fear, leading them to say "being single is more fun because I can be me".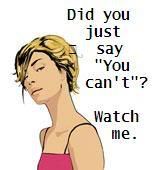 Do you lose your identity in relationships? Do you feel like abiding by rules that your partner implements is turning you into another person? I think that rules are ok if they are phrased as suggestions or recommendations.
One very perceptive guy I went out with could tell when I was turning into a rebel girlfriend, though I tried my best not to show it. He called it the "eye hardening" phenomenon, when my usual doe-eyed demeanor would seem to harden and he had to duck out of site. Some guys impose unreasonable rules without justifying them. If a guy provided a good reason for making a girl dress a certain way, like "I get jealous when guys ogle your plump, rounded woobies so please don't deliberately show them to people", things would be much more clear.
Stifle. Control. Suffocate. Smother.
These words are the most commonly used reasons for wanting to break free from a relationship. Not all controlling actions come from guys however, there are women who turn into she-devils when they feel that they already have a stable foothold in the relationship.
The first year of a couple is crucial to establishing who's dominant and who's submissive; and in some cases, who's submissive or dominant where and when. A rule of thumb I abide by is this: respect the machismo culture when people are around, but not when you're alone. Unless you are naturally a submissive girl, you must let your voice be heard, but don't make the mistake of ranting out your strong opinions in situations where in people can watch him get emasculated.
Sometimes, rigid rules make cheating much more tempting. Like a forbidden comfort food that a person eats in secret after lights-out in a strict dormitory. I guess the secret is finding a good spot between total control and compromise. One can't make someone follow regulations, the other person must volunteer to abide by them.