Friends to Lovers: Transition From Platonic to Romantic
I have long been posting about Guy Friends and how love can develop from a simple friendship. All the songs and movies about friends evolving to lovers confirm our suspicion that while the cupid guy sometimes shoots at unwary strangers, he is more likely to target the people that are already familiar with each other.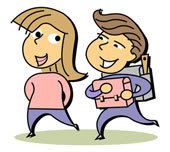 A reader, Anne (not her real name), recently sent in a question about her guy friend/suitor problem. Like every one who has ever been in that gray area between love and friendship, she is confused and more than a little bit excited at the thought that she could be more than just friends with a long time homie.
Here's her question:
Hello!! I came across you website and I thought I might ask about a particular guy that I'm interested in… Well first off, we're pretty good friends, although, over the past month we've started to get closer. We have just been hanging out more by ourselves rather than hanging out in the group we always hang out in. I'm just wondering if he's starting to have feelings for me because sometimes he'll say that he misses me. Also, the last time that we went to the movies alone, he put his arm around me and we cuddled throughout the entire movie. Would a guy do that with a girl he just likes as a friend? Also, sometimes he'll call me before he goes to sleep. Could I be overanalyzing this?
Anne's story is a classic friends-to-lovers dilemma. While we would love to have a clear line between love and friendship, there is none. What we do have is that transition period when everything gets so confusing that one seeks outside influence to figure it out.
Here's my response:
Hey, Anne. There's a thing called 'mutual understanding' which happens when a friendship reaches that exact point where you are now. It's like, you're very good friends and have now been thinking about each other romantically, and every sweet gesture (arms around each other in the movies etc) adds to that.This phase will ONLY be broken (you and your guy friend proceed to the love phase or go back to 'really just friends') if…

1. One or the other risks asking "What are we?". This is usually the unspoken question that never gets asked because the "mutual understanding phase" is very comfortable and safe, though open-ended. And,

2. One or the other gets in a relationship with a third party. Remember that under the 'barely lovers, more than friends' banner, there is no exclusivity. You have not yet committed to a serious relationship and can be open to others coming in.
So how about it, peeps. What do you think?