The Direct Approach to Making Him Confess: Ask Him
One of the highlights of my travel time is reading girly magazines and listening to music. You can say I'm a magazine junkie and you can't believe how many subscriptions I owned over the years, depending on what was my quirk then. When I was a trying-hard entrepreneur, I read the business mags; when I was trying hard to be a good cook, I read recipe mags. My ever present subscriptions include women's and men's magazines, for the advice columns, the daily horoscope and the relationship tips.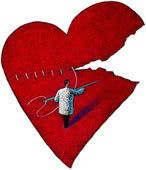 I was most entertained by the how-to-know's: how to know when he's into you; signs that he's ready to take the next step; and the scarier ones "how to detect if he's losing love for you" and "how to detect a cheating boyfriend". Then one day, it occurred to me that things would be much simpler if I asked a guy some direct questions.

Coyness vs. Honest Intention to Know the Truth
Being coy is cool when you just want to be cute for him. But there is nothing cute about second guessing his actions when you're in a serious fight or when there's a serious issue (i.e. another girl). Asking 'do you think she's pretty' or 'do you like her' and watching his reaction like a hawk won't tell you anything. What I'd do is to honestly state that I need to know about it, and promise not to make a scene. Sometimes, guys lie about an affair, even when caught, primarily because they fear a girl's reaction. Following the magazine how-to tips won't help much if he wants to hide it from you because of the consequences of you finding out.
"If she found out, she will make a scene, lash out, cry and make me feel more guilty. Then she will do something crazy like slap me or the other girl in public…. Or, never speak to me again.
Reassure him that you will tone down your reaction if he confesses early and not let you find out on your own. This line always worked: "I will find out one way or another, believe it. It's better if I hear it from you now so that you can at least explain to me why you did it."
I messed up.
When a guy DOES confess, stifle the initial reaction to scream "gah! I knew it!" and destroy all promises of trying not to overreact. Remember, one day you will fix that particularly issue, but you will never be able to use that technique again to making him confess if you go back on your word the first time. I'm not saying you should smile and jump around when he tells you about his indiscretion, but a small effort to keep your promise to not make a scene will be appreciated. After all, he trusted you enough to tell you the naked truth.
You might have heard somewhere that not letting it out when you feel so much is bad for you. When you feel like crying or lashing out at the moment, you can excuse yourself and let out a few tears just to ease the tension in your chest. Yeah, you know that clamp thing that seems to tighten around a person's psychological heart as one thinks more and more about the injustice of what happened. A few tears shed and a few sobs will loosen it enough for you to endure the rest of the date.
Make it clear that it's not OK without hurting him physically

Maybe no one will put up a monument for how well you kept your emotion under control when he answered your direct question with the truth, but you have your dignity intact and your pride safe. He should know that you are not OK at all, and are just trying to honor your word to hear him out before reacting. He might explain why, he might dodge the why completely, but at least you got him to open up to you.